How does it work?
Compared to the conventional brick and mortar school, online schooling is a fairly new concept. Online education brings the classroom anywhere an internet connection is available.
Step 1:
Apply
Complete registration and payment process.
Step 2:
Learn
Complete your courses and other OSSD requirements.
Step 3:
Graduate
Graduate with the Ontario Secondary School Diploma.
Canadian Higher Learning Academy has helped over 300 students in Ontario and throughout the world receive high school credits toward the Ontario Secondary School Diploma. With partnerships around the world, and a strong service centre located in Ontario, CHLA provides high quality online education for all of its students regardless of their location and time zone.
What's in it for you
Accessibility
Our online courses are accessible from anywhere around the globe. Students are able to complete assignments from their preferred location, be it a library or from home.
Flexibility
At CHLA, students are given up-to 10 months to complete each course. Students are also given the opportunity to finish quizzes and assignments in accordance to their schedule and choose their own deadlines.
Student-Focused
Our Ontario Certified Teachers are available through email and online video conferencing for extra help. Teachers instruct students in a one on one online setting, where there is more attention given to each student individually at their preferred learning style.
Support
At CHLA, we assist you in the application process by sending your marks directly to your day school and to OUAC (Ontario Universities' Application Centre)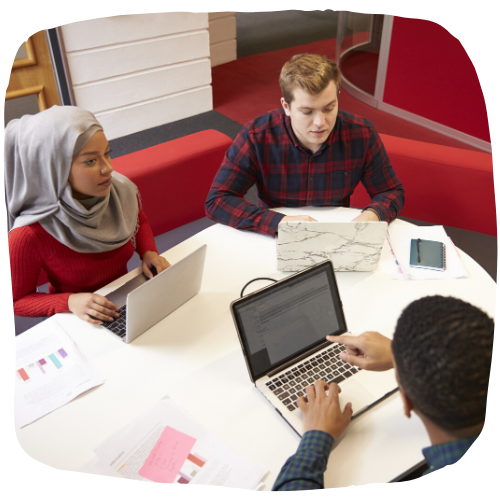 The ENG4U course at Canadian Higher Learning Academy is well taught, and I've been able to finish all my assignments within 3 months.
I am a Grade 11 student and currently taking Grade 12 English (ENG4U). I wanted to get ahead to make my last year in high school less stressful. CHLA helped me do this by offering their online courses.
Harris Vides
Grade 11 Student
Toronto, ON.
Our track record
Throughout the years, CHLA has taught some of the most driven and passionate students. Regardless of age or location, these students have surpassed expectations and have realized their their hidden potential.
With that being said, the best way to show you how far we've come, is through the words of our amazing students.
Our curriculum
We believe that learning is an ongoing process in everyone's life and should be accessible to everyone at any time. We have built 3 programs at CHLA that allow people from all walks of life to excel and complete their Ontario Secondary School Diploma.
We offer the following 3 programs: The Domestic Student Program, the International Student program, and the Mature Student Program.
CHLA also offers a wide variety of courses. Starting from grade 9 through grade 12. We assure you and offer courses that would interest you and help you build your career.
To find out more about our programs and courses, click the button below.